So how do you amplify the amount of space in your home without jumping into costly additions? You have to master the art of decorating and renovating in tight spaces. There are a lot of techniques and tricks that you can use to make lemonade out of lemons, in this case, the tiny kitchen.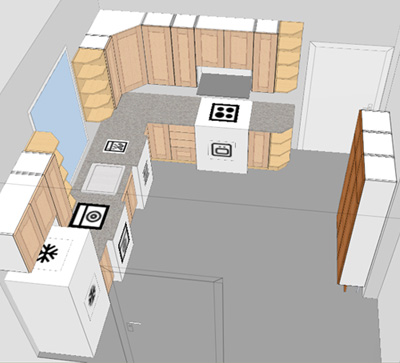 The first thing to consider in a small kitchen is the functional layout. There are dozens of kitchen designers that take factors into account to make the best use of your space. They think of things that you may not, like positioning frequently used items and drawers higher to mimimize stooping and bending. You also need to consider the location of major appliances, are they eating into all of your counter space? Is there a better wall to place your refridgerator? Simply mounting your microwave can free up a good portion of counter space.
The next thing to do is to maximize your usable space. Cabinets that reach the ceiling offer more storage and give you a more suitable counter workspace. Specially designed storage can take wasted space and give it a purpose. Roll out features inside cabinetry will better organize your utensils, pots and pans, and double your storage.
Paint and color schemes will also make a notable improvement. Bright and light colors will open the area and make it appear larger. Consider adding splashes of color in a tile backsplash while keeping the rest of the space light and airy.
Lighting is another simple way to create illusions. Whether through windows or lighting fixtures make sure the kitchen is bright! Not only will this help while you're actually using the kitchen but it will also help create the illusion of more space.
Design touches- Use reflective materials like mirrors and stainless steel to trick the eye into thinking there is more room than you have. Make sure rugs run length wise as opposed to width wise. Pick a deep kitchen sink to get more room to work without taking up any more counter space. Glass cabinet doors give the illusion of a bigger space too.